Sending material to Cataloging from the Annex
(For Central, Science, Peabody, Management materials. For Divinity, Music, and GIMS, place a physical item request for the cataloger and send to service desk).
Annex staff:
In the Item display, click on the ellipses […]
From a Physical Title search and clicking on Item at the bottom of the display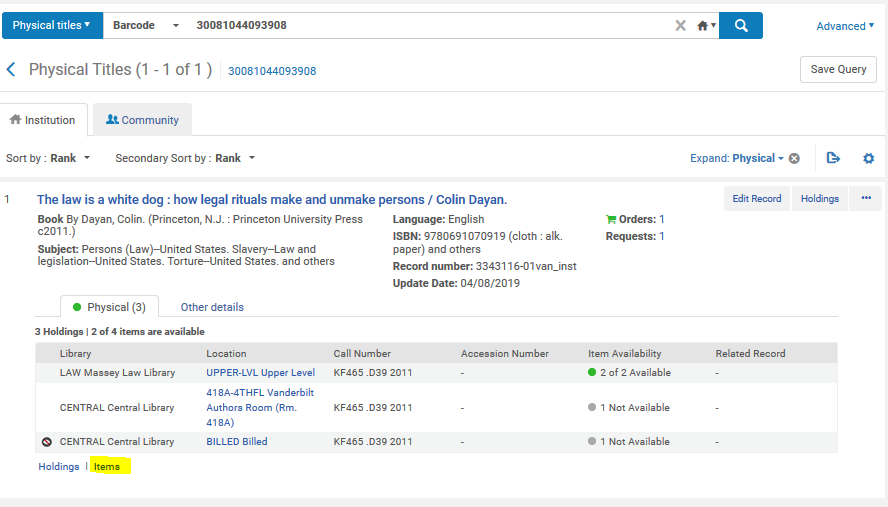 From a Physical Item search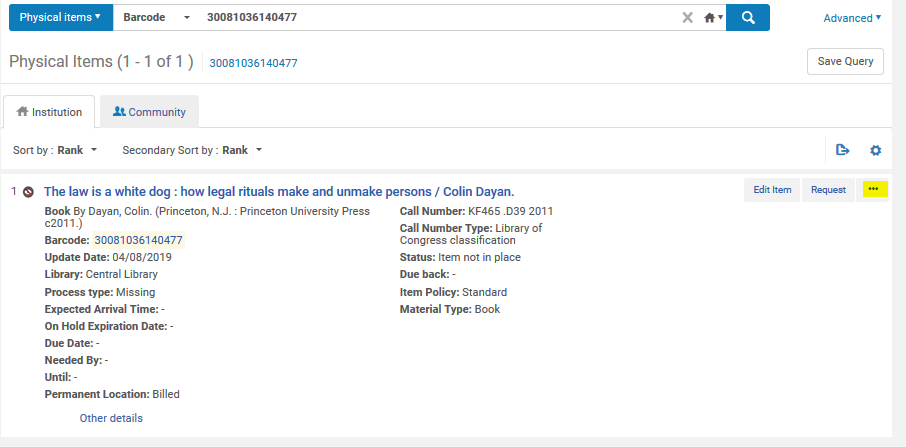 From the options, select Work Order.
At the Place Item in Process window, choose Process type "Cataloging at Baker" to send to Collections Cataloging.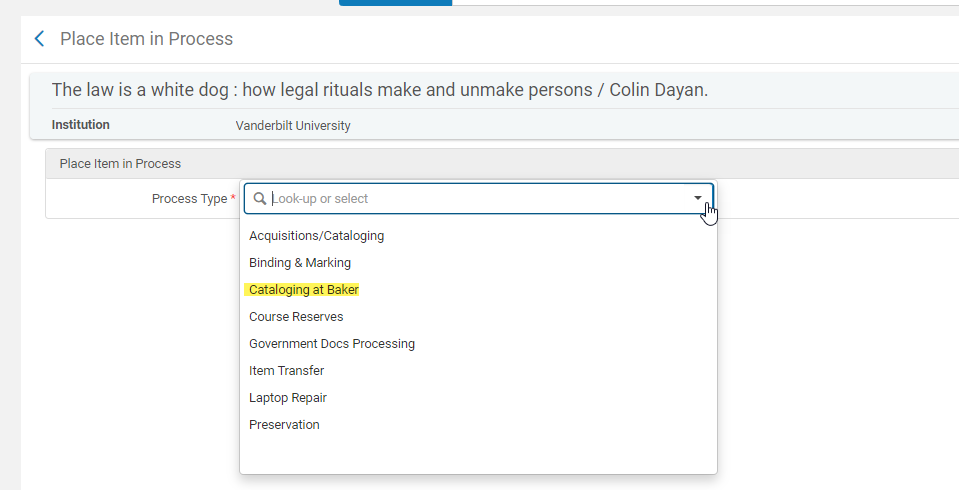 This opens the option to add a note. Add a note giving the name of the cataloger and reason for sending the item.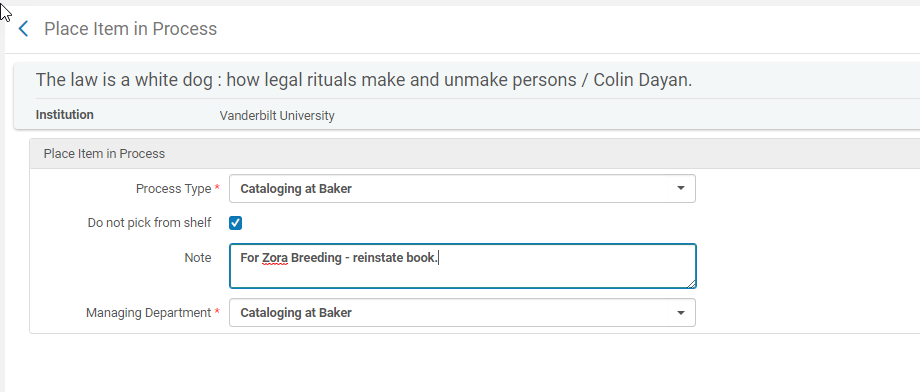 Make sure the "Do not pick from shelf" box is checked to prevent the request from showing up in Pick From Shelf list.
Immediately go to Fulfillment and "Scan In" the item. This will put it into transit to the work order department. Send item to the cataloger in Baker Cataloging.
Collections Cataloging staff:
The item will need to be Scanned in to Cataloging.
Open Fulfillment > Scan in Items
Choose Set Status to Cataloging, Done No, wand or type in barcode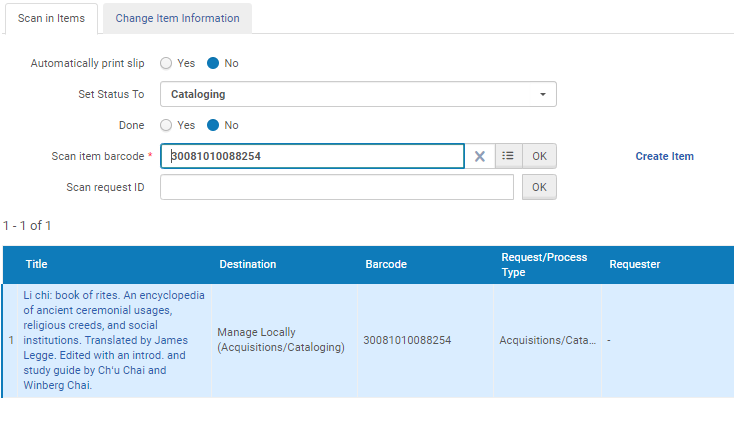 Click on the Title to see the note that was added.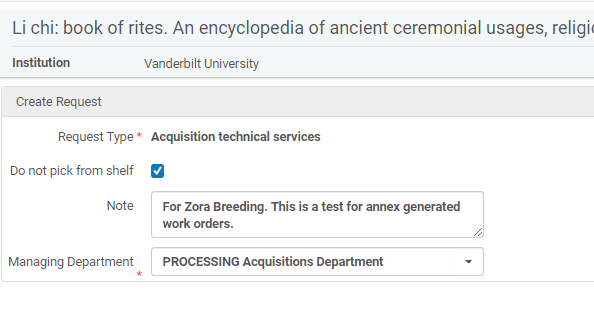 Process as needed. When finished, be sure to choose Fulfillment > Scan In Items and choose Done Yes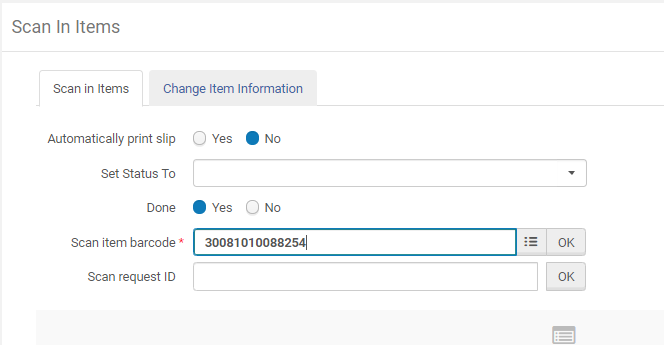 Send to appropriate next location, such as Marking or return to Annex, depending on what is required.
For Divisional cataloging unit materials (Govt Docs, Music, Divinity, Law)
These materials should not be sent to the Cataloging division but need to go to the divisional catalogers.
Govt Docs – For Government Documents, simply select "Government Docs Processing" from the Process Type pulldown menu after selecting the item and Work Order. Send directly to Will Stringfellow/Govt Docs.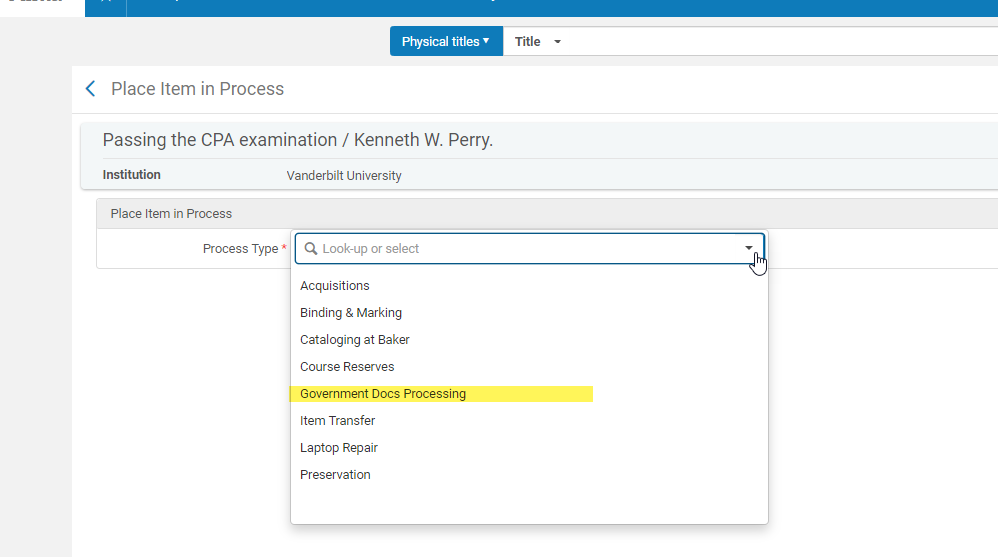 For Music, Divinity, or Law materials – Create a Physical Item Request for the divisional cataloger by doing a Physical Item search and selecting "Request" from the options at the top right of the item record.

You can also do a Physical Title search and select "Request" from the ellipsis.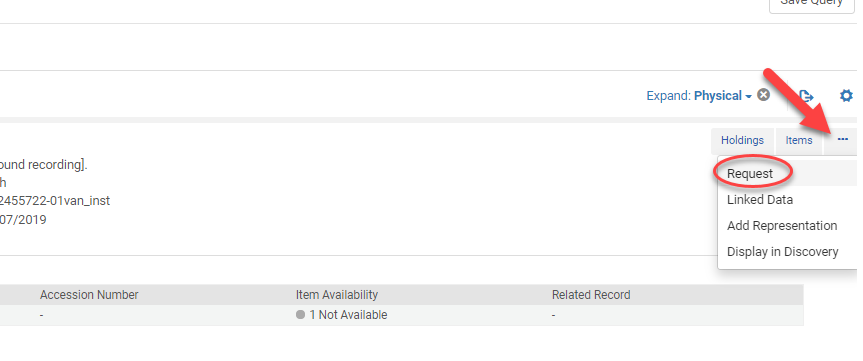 From the "Request Type" menu select "Patron Physical Item Request".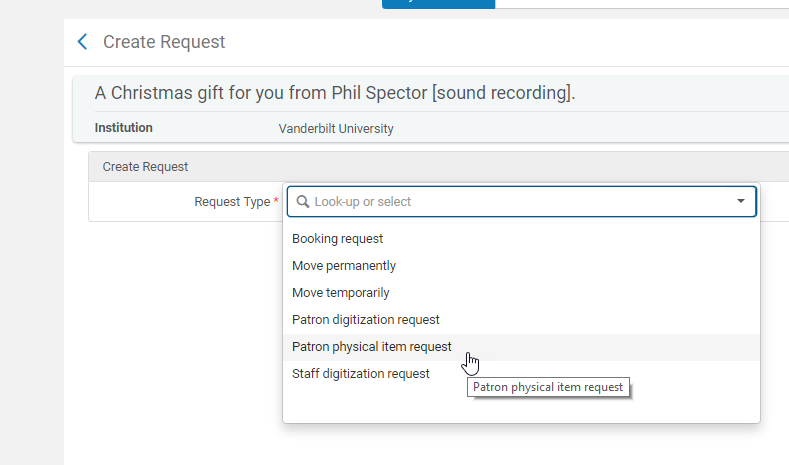 Fill out the request form for the divisional cataloger for the unit (listed below). Include a note explaining why you are sending the item. Select their library for the pickup library.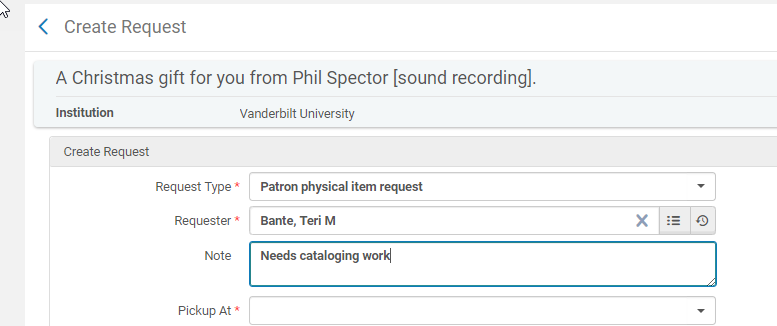 Divisional Cataloging Contacts:
Music- Jake Scaub
Divinity- Chris Benda
Law- Sara Saddler
Scan in the item to put it into transit and remove it from the "Pick from Shelf" list.
Send the item to the appropriate pickup desk with the other requests.