Library managers should request access to Grima Enumeration tool via INFORM , please include staff  VUnetIDs in the INFORM ticket.
Access the Grima Tool
Login in with your VUnetID/epassword

Click on Fixenumeration under Edit Records

Type in the following fields as below:

Grima user name: enumeration
Grima password: enumeration1
Institution: Production
You are now prompted to input an MMS ID to start.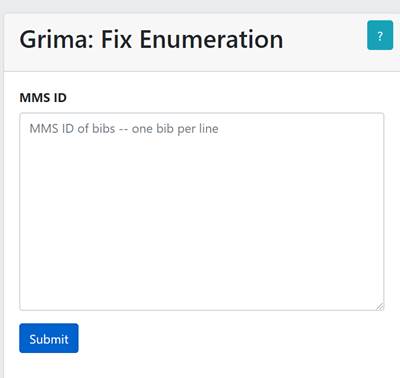 Further instructions on using the Grima in enumerations cleanup are found elsewhere in the documentation.
Some other notes of interest regarding the Grima:
Some browsers (especially Microsoft Edge) can be tricky. If you run into problems accessing the Grima in one browser, try another.

The Grima times out eventually. When it does, you will have to close out your browser all the way and restart in order to regain access.