What is Technical – Migration? 
Items in the Technical – Migration process had unplanned-for combinations of Current and Home Locations in Sirsi at the time of migration. Pseudo-patron charges and manual staff current location changes in Sirsi typically created these unplanned-for location combinations. 
Is Technical – Migration just a circulation problem? 
No. Many of these items were charged to acquisitions and cataloging departments.  Many of these items are order records that were never associated with a physical barcode. 
How do I find Technical – Migration items in Alma? 
Perform an Advanced Physical Item Search for the Process Type Technical – Migration. 

How do I remove found items from the Technical – Migration process? 
Restore the item from an Alma circulation desk.  
From the Fulfillment menu, choose Scan In Items. From Scan In Items, select the Change Item Information tab.  Choose the Restore Change type, and scan/enter the barcode in the appropriate field.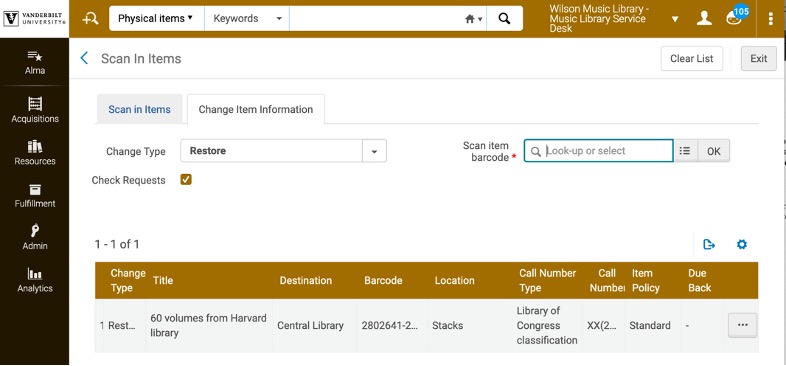 Do I have to remove these items from Technical – Migration process before I can withdraw them? 
No. 
How can I get information to help me locate these hundreds of items? How can I tell what pseudo-patron they were charged to or what Sirsi current location they were assigned to at migration? 
A Technical – Migration Task Force Dashboard was created in Alma Analytics to help make sense of items in the Technical – Migration process. 
If you are unfamiliar with Analytics, open Analytics by clicking on Design Analytics or a report from the Analytics menu in Alma. The Technical – Migration Dashboard will be available from the Dashboard drop down in the top right of the browser. 

The Dashboard will open to the main Technical – Migration tab, which consists of two prompts.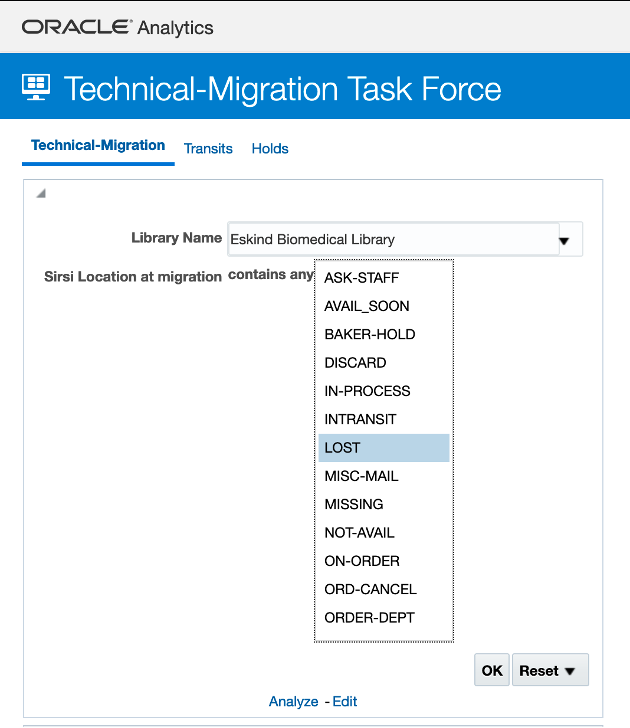 "Library name" limits the full list of Technical – Migration items by the owning library.  Note that Acquisitions is included as an owning "library".  
"Sirsi Location at migration" performs a keyword search of migration notes from a local note field in bibliographic records. The dropdown lists the most useful keywords for determining the Sirsi current location of the item at migration. 
Click "OK" to generate a list of Technical – Migration items limited by the parameters you have specified. 
Within the resultant list of items, to further aid in searching, the Sirsi notes column contains the Sirsi Current Location, Home Location, and Item Type, as well as the Sirsi call number, call number classification, copy number, date loaned, last activity date, whether the item was shadowed/suppressed, and the date the item was created. These notes are repeated for every physical item or order associated with the bibliographic record. 
To export the list so that staff or student employees can check shelves or processing areas, click Export in the bottom left-hand corner.