CREATING A NEW USER RECORD:
Records that are not loaded into Alma must be manually created. Always search for a user record before creating a new one. If a match is found, click on the record and select "Open for Update." If no record is found, select "Register New User."

USER INFORMATION:
Name – fill in field for first name, middle name, and last name.
Primary Identifier:

If they have a VUnetID, use the VUnetID as a primary identifier.
For patrons who do not have a VUnetID, use their email address as the primary identifier.
NOTE THAT ALMA DOES NOT ALLOW YOU TO ENTER THE USER'S BARCODE DURING INITIAL RECORD CREATION. You have to save the record and then select "Edit User" to add the barcode – see EDITING AN EXISTING USER RECORD for instructions on how to do this.

User Group – select the user's profile from the drop-down menu according to the user record creation table.
Expiration Date and Purge Date – Select the expiration date appropriate to the user record creation table.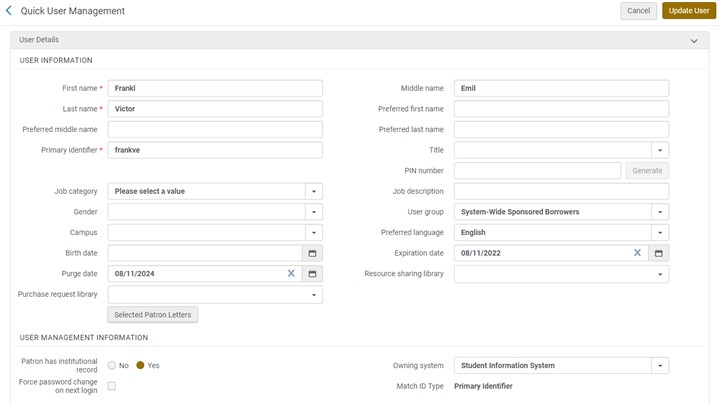 USER MANAGEMENT INFORMATION:
Patron Has Institutional Record – Select yes when they have a VUnetID.
For non-VU affiliates, keep it set as no. Enter a temporary password chosen by the patron.
E-MAIL, ADDRESS, AND PHONE:
When registering a Vanderbilt-affiliated user, you must use Vanderbilt email, be sure to select school (for students) or work (faculty/staff).  The address and phone number for faculty should be for their workplace.
When registering a non-Vanderbilt user, enter email, home address, phone number.
Once you have added the required information, click on "Update User" in the top right of the screen. Even though this is a new user record, this is the correct action to complete the registration.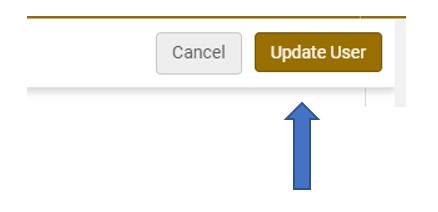 You must now edit the user record to add the magnetic stripe number from the Commodore Card as an Identifier, and to add notes and a Statistical Category.
EDITING AN EXISTING USER RECORD:
To edit a user record, choose "Manage Patron Services" from the Fulfillment menu, look up the user, and then click on the VUnetID.

for this resulting page.

Click Add Identifier on the Identifiers tab. Click Add Note on the notes tab.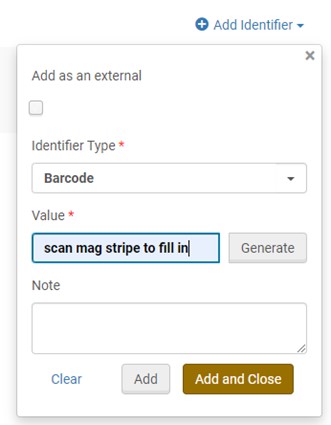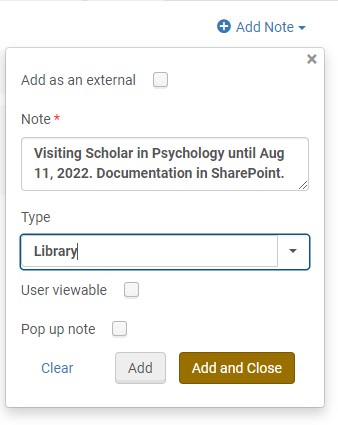 Record view with identifier added:

Record view with note added: